Experience Exquisite Elegance in our Cumbria Kitchen Showroom  
Looking for an inspiring kitchen showroom in Cumbria? …Step into the world of refined kitchen aesthetics and superior functionality with Classique Kitchens – your go-to destination for luxury German kitchens in Carlisle, Cumbria, the Lake District, and southern Scotland. We specialise in delivering custom kitchen solutions tailored to your preferences and needs, with budgets typically ranging from £10,000 to approximately £45,000. Offering kitchen designs from prestigious German brands Stormer and Schuller, along with Classique's exclusive brand, Unity, we provide an expansive range of high-end kitchen options.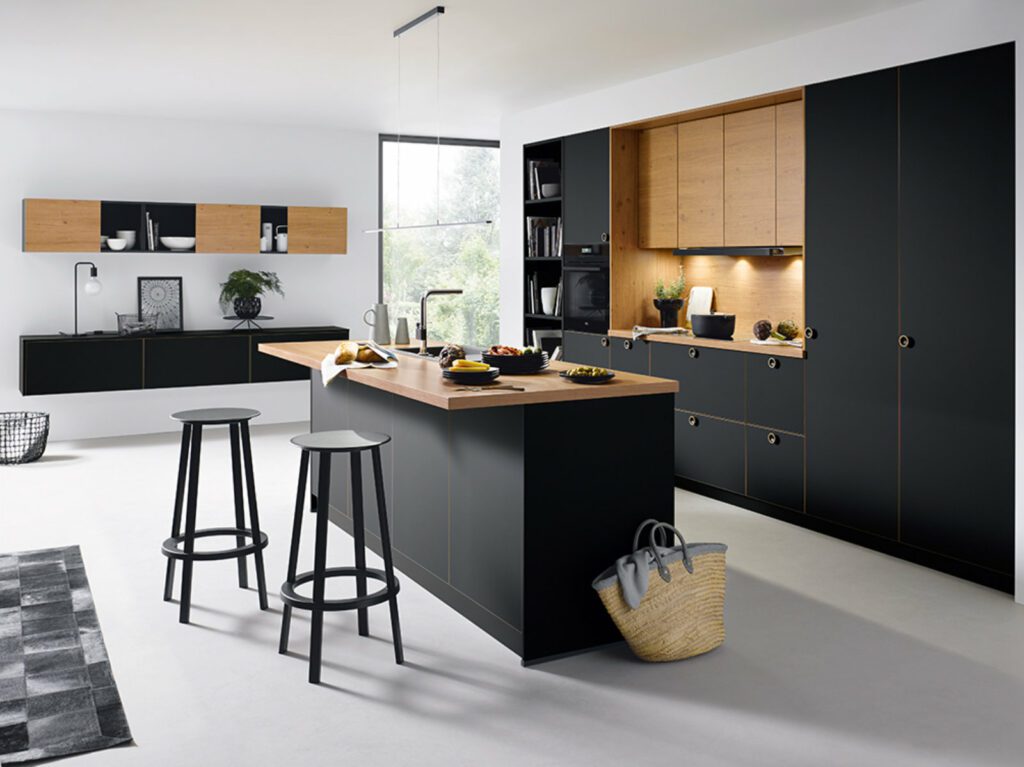 The Classique Kitchens Distinction 
Our philosophy at Classique Kitchens stems from understanding that every kitchen tells a unique story. Our expert kitchen design team, enriched by a strong background in home building, recognises the nuances of personalised living spaces. This unique insight allows us to ask the right questions, present flexible solutions, and devise the perfect kitchen layout that truly encapsulates your vision. 
We will always bring you our best possible solutions, and even when working from architect-supplied plans, we utilise our technical acumen to suggest innovative modifications where we see the potential, all to ensure the best possible finish for your home. Our unwavering commitment to client satisfaction, meticulous attention to detail, and superior service standards are apparent from your very first design consultation with us, through to the final sign-off on a project.
German Kitchens in Cumbria 
German kitchens are globally renowned for their pioneering designs, unmatched quality, and precision engineering. In fact, German kitchens are so well-built that it is usual practice for Germans to remove and take their kitchens along with them when they move house! This necessitates the construction of highly resilient kitchens capable of enduring removal and reinstallation – and often more than once.
German kitchens also impress with their aesthetically pleasing designs – sleek, efficient, modern, and available in an extensive variety of stunning colours, styles, and finishes. At Classique Kitchens, we leverage our wealth of experience to create stunning German kitchens tailored to your lifestyle.
Immerse Yourself in Our Cumbria Kitchen Showroom 
Our Cumbria kitchen showroom is the ideal place to experience our commitment to excellent kitchen design firsthand. Designed with ample onsite and nearby parking facilities, we always do our best to prioritise your convenience. In this respect, we also recognise that a daytime visit during the week can often prove challenging and so we are always flexible, offering evening and weekend appointments where required.  
Discover Our Inspiring Kitchen Displays 
Experience the exciting world of German kitchens in our Cumbria kitchen showroom, where we showcase our three German brands – Schuller, Stormer, and Unity – along with over 200 door samples. Browse through our range of handles, worktops, and appliances from Bosch, Bora, and AEG, for whom we are a premier appliance partner.

A visit to our luxury Cumbria kitchen showroom is the best way to experience the innovative design, and quality of our products firsthand. Only by observing our kitchens in person can you genuinely comprehend the detailed assembly of our cupboards or opulence of our luxury door finishes. Similarly, you can experience the flawless operation of our cabinet doors, the robustness of our worktops, and the chic sophistication of our appliances. This immersive interaction that allows you to touch, feel, and truly understand our offerings is a unique experience available only through an in person visit to a kitchen showroom.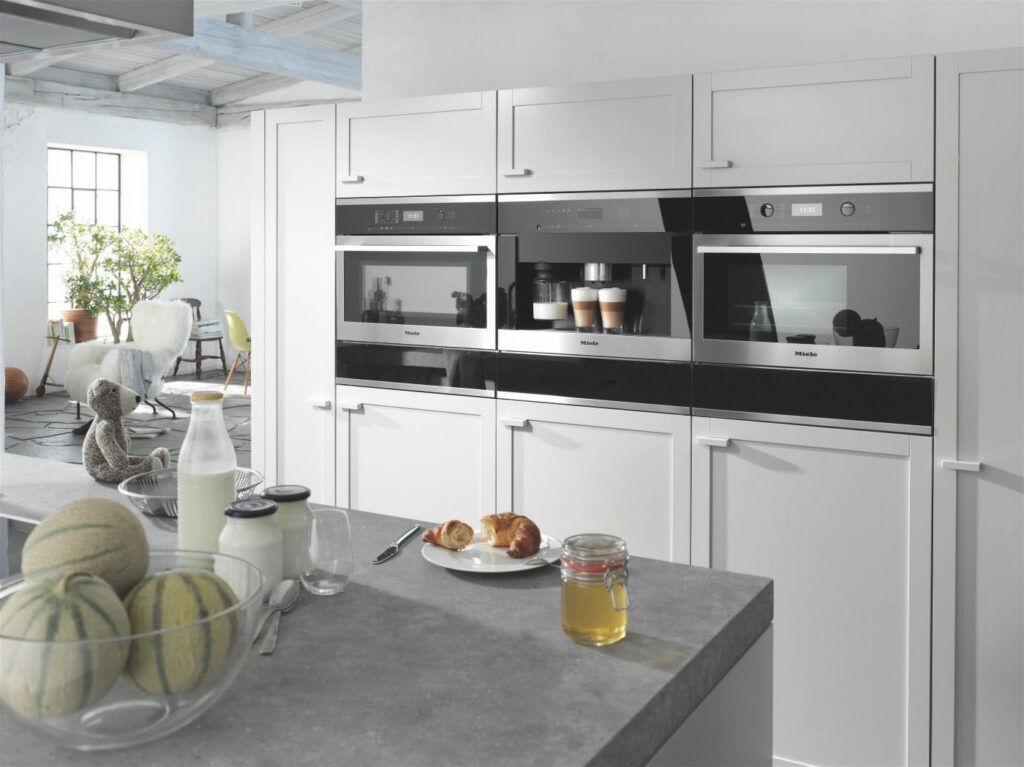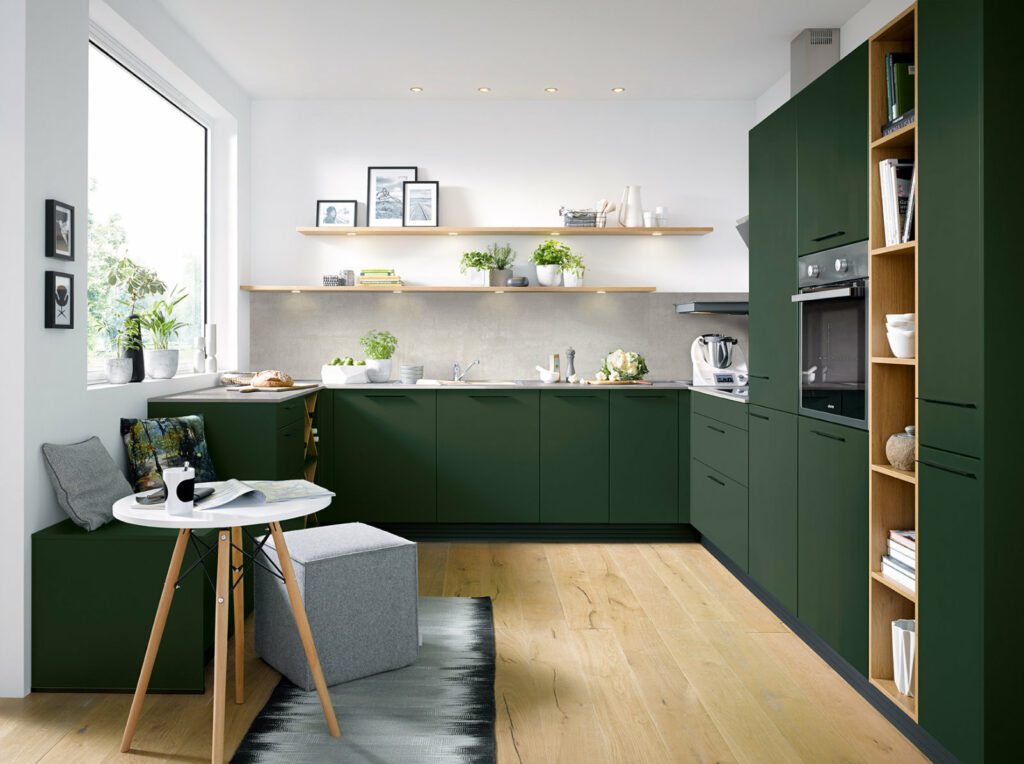 Your Exciting Visit to our Cumbria Kitchen Showroom 
Our Cumbria kitchen showroom also sets the stage for live appliance demonstrations, offering great insight and clarity into their functionality. We also host cooking demonstrations, inviting both potential and past clients to experience our products. For parents visiting us, we encourage you to bring your children along too. With a range of iPads, games, and building blocks available, they'll have plenty of fun while you explore your kitchen options.
Book Our Free Cumbria Kitchen Design Service 
Classique Kitchens boasts a team that brings together more than 25 years of experience in design and building. From the outset, we collaborate with you, step-by-step, leveraging our comprehensive technical knowledge to ensure your kitchen stands out.
Our free kitchen design service can take place in our Cumbria kitchen showroom or should you prefer we can visit you at home to measure up your space. We cover most of Cumbria, Carlisle, the Lake District, and even southern Scotland with our professional kitchen design and installation services.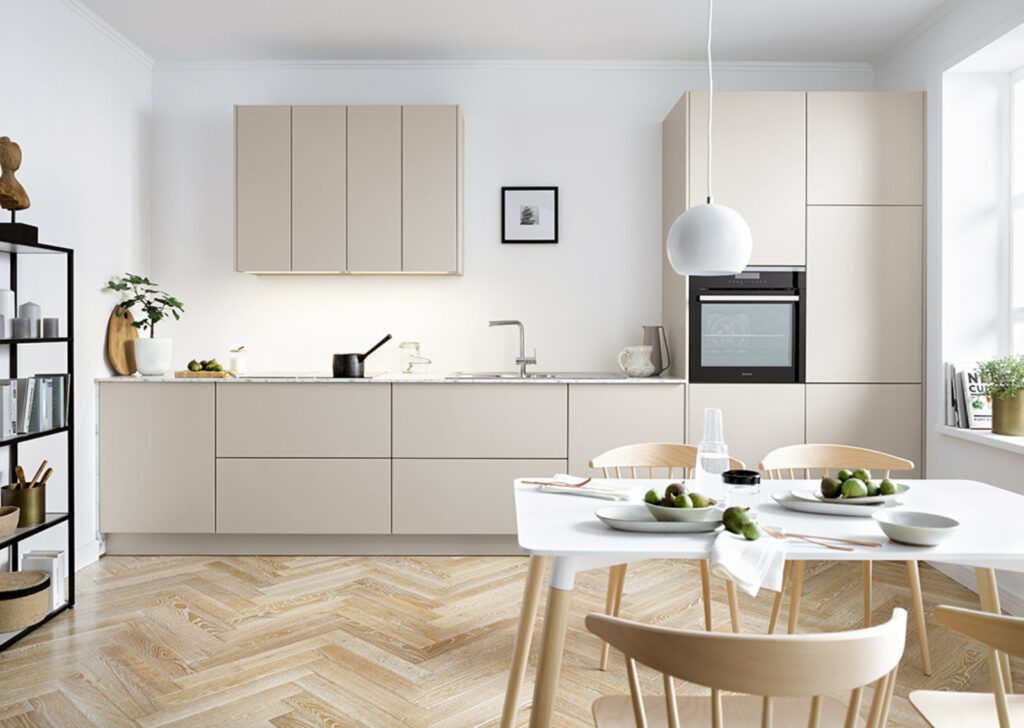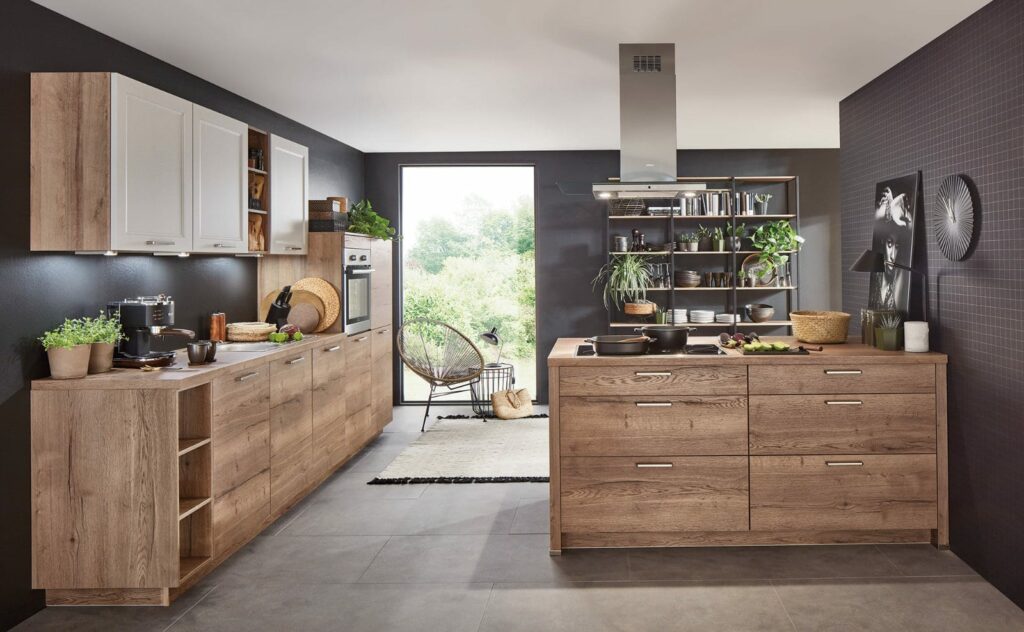 Our Innovative Approach to Kitchen Design 
In meeting for our kitchen design service, our friendly Cumbria kitchen design experts will put you at ease whilst initiating a guided, comprehensive discussion on your kitchen requirements, preferences
and aspirations. During this discussion, we delve into how you utilise your current kitchen and how you envision its future role. Furthermore, we consider the dynamics of open-plan or adjoining rooms, ensuring a seamless flow and synergy across your intended living spaces.
Personalising your Kitchen Design
During the design meeting, we can provide advice on styles, colours, and finishes, aligned with your desired aesthetic. And if you've already started collecting ideas from platforms like Instagram, Houzz or Pinterest, we encourage you to share them with us to help us better understand your vision. 
In the absence of existing plans, we offer a home visit to measure your space. Following this, we present you with meticulously crafted CAD designs, absolutely free of charge. We will then proceed to refine these designs as per your feedback. In addition to receiving a detailed quote, you'll get a chance to experience your future kitchen in a virtual reality setting!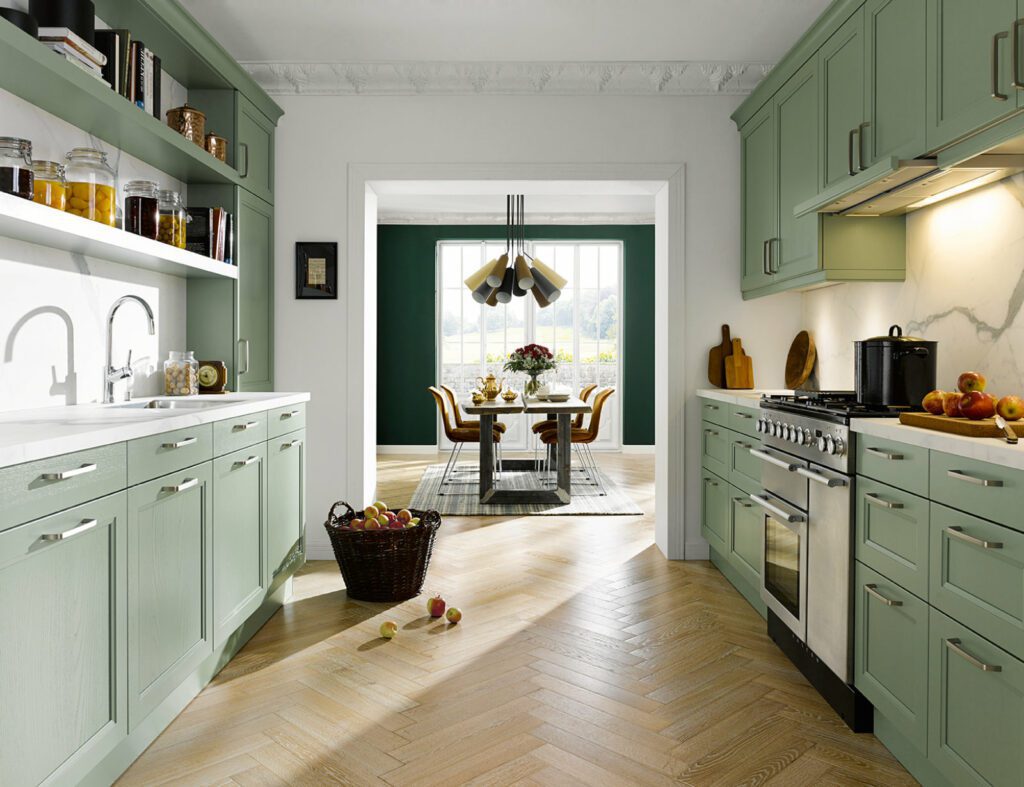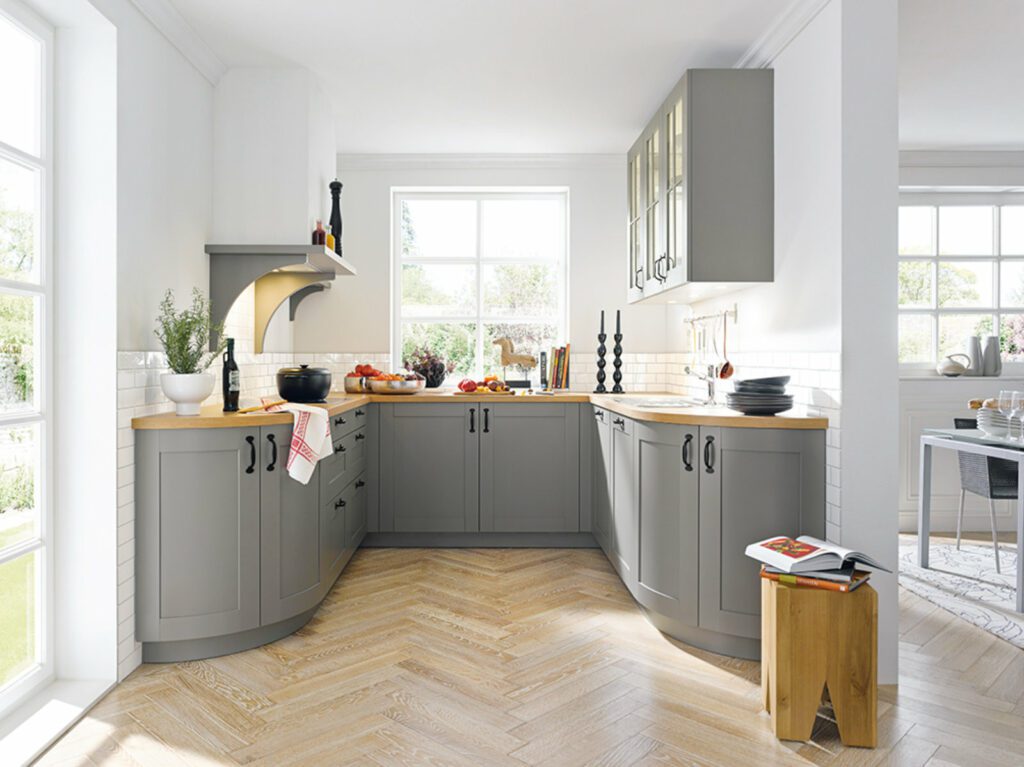 Working from a Plan with Our Cumbria Kitchen Designers 
At Classique Kitchens, we frequently collaborate with architects and interior designers to transform your kitchen vision into a reality. Rather than rigidly adhering to existing plans, we approach them with fresh perspectives, suggesting potential improvements.
Even a minor adjustment, such as moving a window slightly to the left or right, can dramatically enhance the final design. Our rich experience working with architects enables us to pinpoint small, easy-to-implement changes that significantly elevate the overall aesthetic and functionality of your kitchen.
Our Flexible Approach to Kitchen Installation 
At Classique Kitchens, we understand that each client's installation requirements are unique. With this in mind, we offer a flexible installation service, undertaking as many or as few of the tasks as you wish. Our full-service package manages everything – from plumbing, electrics to building works – ensuring a hassle-free experience for you.
Our Installations Manager conducts regular site visits to ensure smooth progress and adherence to the schedule. We have a team of experienced installation crews and tradesmen, with whom we've nurtured strong working relationships over the years. Ahead of delivery, your kitchen is securely stored in Carlisle's largest storage facility, fully insured, and open for your perusal.
Contact Classique Kitchens Today
To find out more information on any aspect of our service or else to book a free kitchen design appointment at home or in our Cumbria kitchen showroom please don't hesitate to contact us.
Book A Design Appointment